Artist Statement
Artist Statement
To dream, to feel, to connect with the vibrational energies of life. There is a deeper thread that connects us all.
Our connection to the larger web of life reveals a permeability whereby all aspects of life touch and interconnect with each other. Human experience does not lie art the center of this complex network, which instead considers life as a whole. Cultivating our relationship to these processes of life can bring great pleasure, and also afford us essential perspective, as we understand our actions to echo throughout this living tapestry, just as it resonates through us.
Biography
Robert Najlis is an artist, working predominantly in painting, but also with interactive sound art and installation.
He is a Fulbright scholar, with a masters of fine arts from the University of Massachusetts Dartmouth, and a masters in computer science with a focus on artificial intelligence and cognitive science from Indiana university. He also studied at the Art Students League of New York in the lineage of Hans Hofmann and George Bridgman.
Announcing My New Book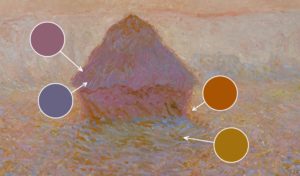 See Color
Understand Color Relationships and Movement
Speak the Language of Color